Indoor breeding of fish and shrimp, it sounds very fresh, but in Shantou Huaxun Aquatic Products Co., Ltd., factory farming has become a reality. Yesterday afternoon, the reporter went to the Factory Health and Culture Zone of Shantou Huaxun Aquatic Products Co., Ltd., which is located in the Yautian Yangdong film. It was found that the two-acre culture area was a large-scale production workshop, and the equipment of various breeding ponds was basically After the transformation was completed (see figure), an energy-saving small boiler was added. The accompanied by the general manager of the City Huaxun Aquatic Products Co., Ltd. and the president of the Jinping Fisheries Association Wang Xiujin told reporters that after investing more than RMB 1.6 million in low-energy transformation, the company will save two-thirds of energy consumption and regulate the water temperature. In the future, fish and shrimp can be cultured every season.

This "factory farming" can be called a high-tech product. Since the water pollution problem of the Tuji River has not been resolved, Huaxun Company has been trying to avoid pollution sources to ensure the breeding quality, increase research funding, and cooperate with the South China Sea Fisheries Research Institute of the Chinese Academy of Fishery Sciences to take the lead in industrial farming in the eastern part of Guangdong. In the experiment, the water was changed from a water to a pool of water (approximately 90 days). In addition, "factory culture" can raise more than 10 kilograms of fish per cubic meter of water, and the breeding density is two times higher than that of intensive culture. The market cycle time of grouper is also shortened by three to four months compared with ordinary culture.

Founded in 1987, Shantou Huaxun Aquatic Products Co., Ltd. currently has over 7,200 mu of aquaculture area in Niutianyang, supporting more than 30 mu of aquaculture and nursery farms. Last year, it invested more than 5 million yuan to build the waters near Nan'ao Island. A scientific and technological aquaculture demonstration base for storm-resistant deepwater cages has become the largest sea and freshwater aquaculture company in the city.

Hua Xun Company attaches great importance to scientific and technological innovation. The company has succeeded in raising grouper fish in brackish water. The introduction of new varieties of "Freshwater Lobster in Australia" and "American Channel Catfish" have also been successfully tested. Last year was also successful. 1000 acres of ponds standardized transformation, aquaculture efficiency has doubled. The company's cultured grouper, golden trout, red fish, fish, shrimp and other processed are all exported to markets such as Europe, America and Japan.

After tasting the sweetness of "science and technology to power," Wang Xiujin is full of confidence: "After the Lantern Festival of this year, the transformed factory breeding farm will be restocking fish and shrimp. The first phase plans to expand to 50 acres. In the future we will also work with each Scientific research institutions will strengthen cooperation, vigorously develop specialty aquatic products, and link up and drive peripheral farmers, and take the integrated development path of agricultural intensive and technological operations."

main feature

1.ZF series of reflective shadowless lamp is widely used in various occasions operation lighting needs, is the ideal lighting equipment of modern operation room.

2. Full close streamline lamp body design completely meets the demand of the sterilization and high standard of laminar flow purification in operation room.

3. Adopting more than 5280 slices of reflection mirror, guaranteeing 1200 mm lighting depth.

4. Special design of color temperature compensation provides closer to that of natural sunlight and helps the doctor to distribute operation parts clearly and accurately.

5. The back-up battery will start work within 0.2 seconds automatically in case the main battery is damaged,ensuring the continuation of surgical operation. There`s failure indication in the handle control panel, to recommend the bulb to be changed after operation.

6. detachable handle jacket ,can be used for high temperature (≤134℃)sterilized.

7. Digital-control circuit offers many functions, with 10 segment brightness selection stepless lighting regulation, brightness memory, low voltage

start-up and power on self test etc.

8. The life-span of OSRAM halogen bulb is up to 1500 hours; the bulbs can be changed easily.

9. Germany ORSAM lamp socket,thermostability

10.Balance arm can be optional Germany imported or domestic.

11. mould Die-casting Eight edge type Revolving arm.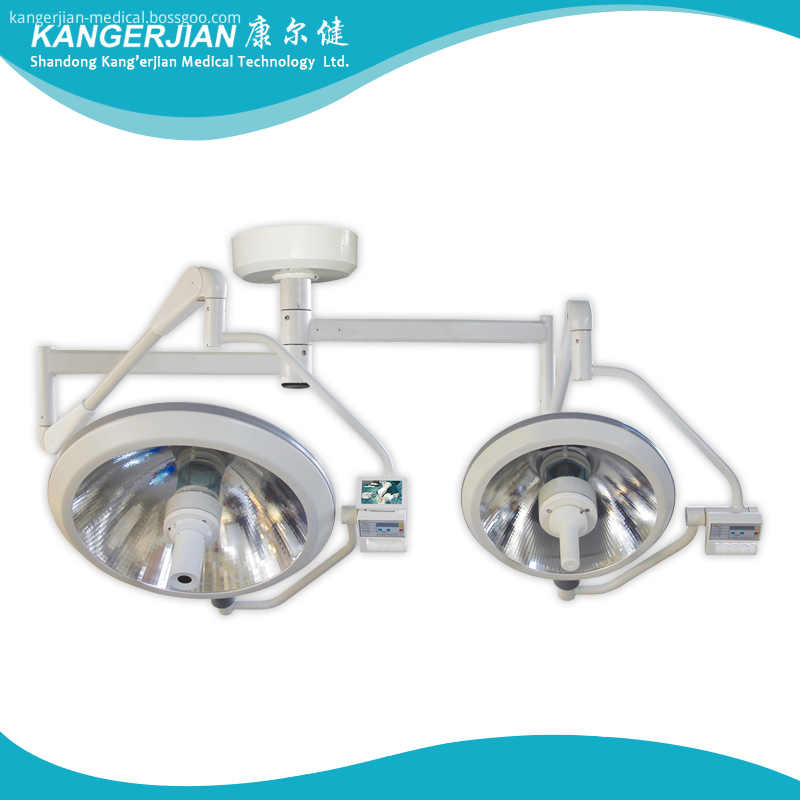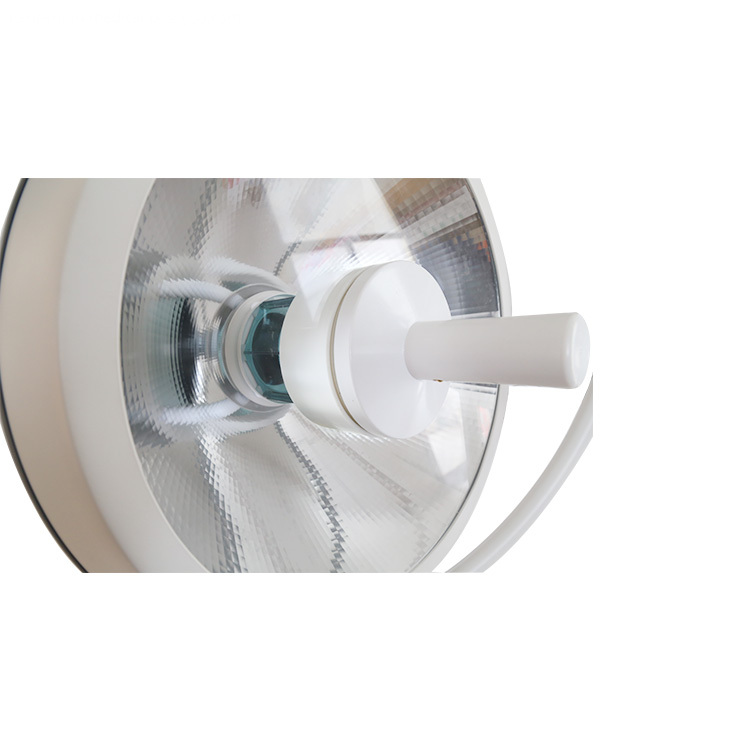 Double Dome Halogen Operating Light

Double Dome Halogen Operating Light,Double Dome Halogen Operating Light,LED Halogen Light,Double Dome Halogen Operating Lamp,Double Dome Operating Lamp

Shandong Kang'erjian Medical Technology Ltd. , https://www.operatingtable.nl