Model NO.: D11

Tilted: Non-Tilted

Folded: Folding

Material: Aluminium Alloy

Type: Electric Wheelchair

Motor: 250W*2PCS

Battery: 24V 6ah*2PCS

Trademark: JBH Wheelchair or OEM

Transport Package: (L*W*H) / Gw 69cm*42.5cm*89cm/ 32kg

Origin: Nanjing, China

HS Code: 87139000

Model NO.: D11

Tilted: Non-Tilted

Folded: Folding

Material: Aluminium Alloy

Type: Electric Wheelchair

Motor: 250W*2PCS

Battery: 24V 6ah*2PCS

Trademark: JBH Wheelchair or OEM

Transport Package: (L*W*H) / Gw 69cm*42.5cm*89cm/ 32kg

Origin: Nanjing, China

HS Code: 87139000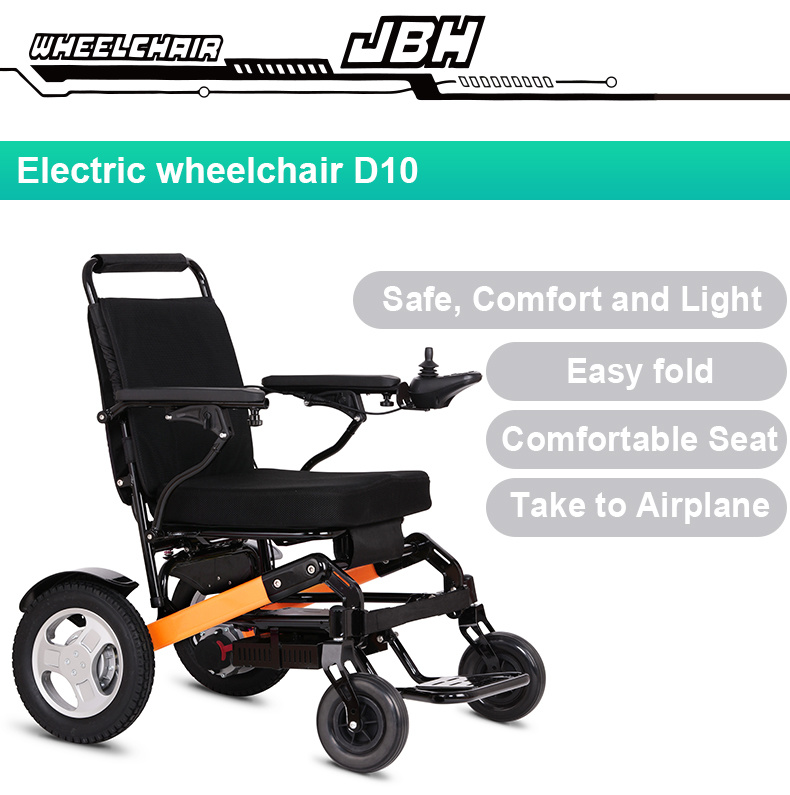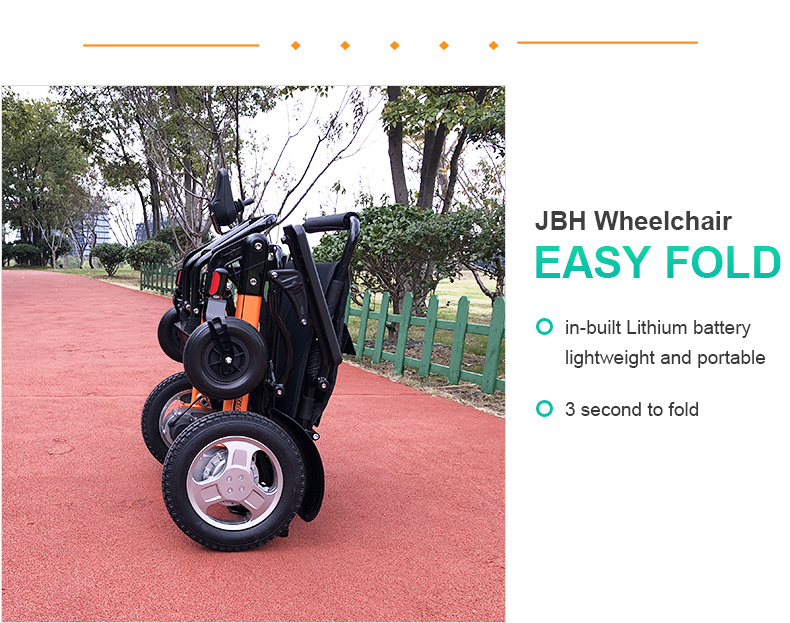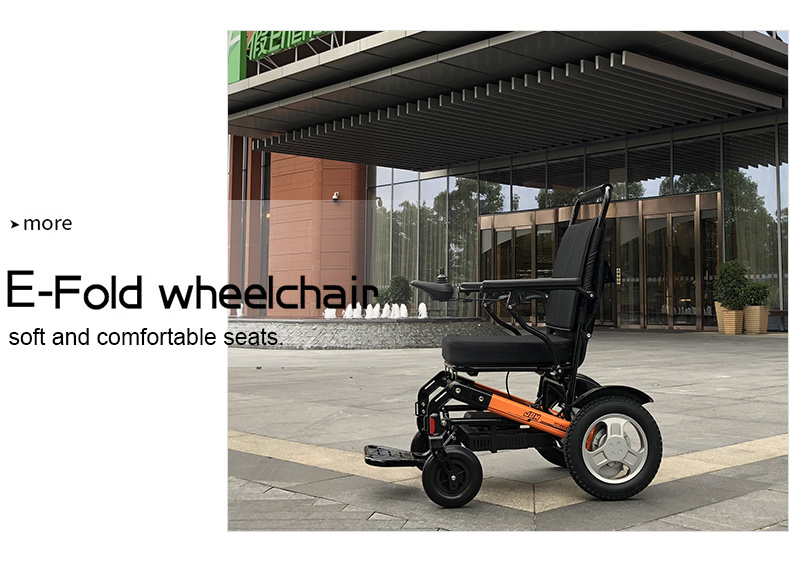 | | | | |
| --- | --- | --- | --- |
| Overall Size | 870mm×610mm×920mm | Folded Size | 610mm×260mm×770mm |
| Net Weight | 21kg | Gross Weight | 26kg |
| Color | Silver, Blue, Black, Red, Yellow, Pink | Weight Capacity | 120kg |
| Max Speed | 6km/h | Driving Distance | 15-20km |
| Seat Width | 470 mm | Seat Depth | 400 mm |
| Seat Height | 460 mm | Climbing | 12 ° |
| Motor | 180W×2 DC 24V brushless motor | Battery | 10Ah DC 24V Lithium Battery |
| Tire | PU solid tire | Frame | Aerospace aluminum alloy |
| Brake System | Intelligent electromagnetic brake | Charging Time | 6-8 hours |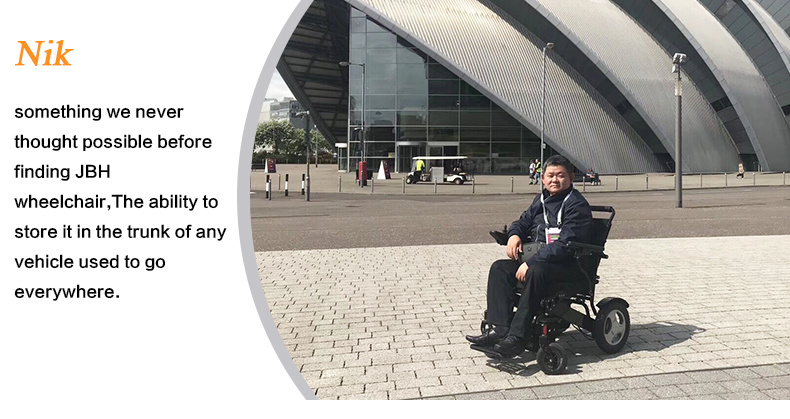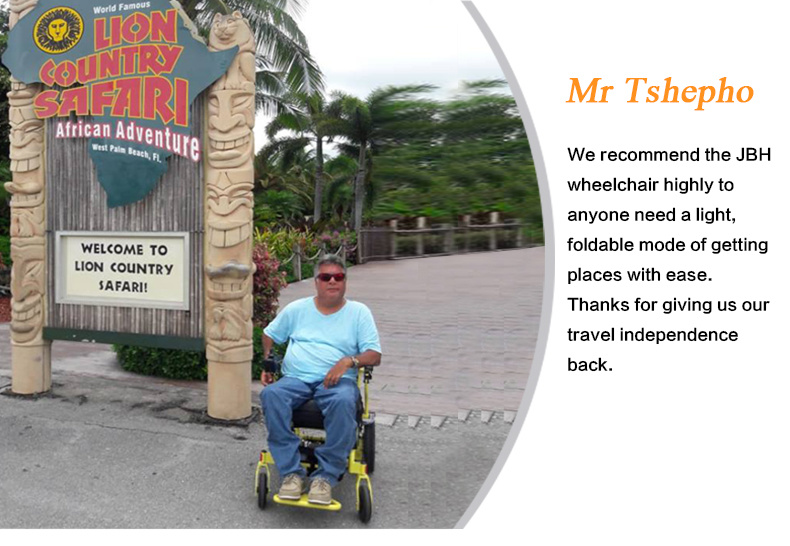 FQA
Q1.Why you choose Jin Bai He Company?
A1.We are profession wheelchair factory so we can ensure products quality and The pre-sale, after sale service.
A2.We accept your wheelchair design so we accept custom-made and customer Logo Print
A3.We are factory so our price is most competitive 
 
Q2.What is your warranty of products?
Wheelchair Frame is 4 years,Battery is 1 years
 
Q3.How about your payment and shippment
Payment terms:30% in advance payment;70% before shippment
Shippment:FOB,CIF,CFR is available
Delivery Time:within 25 days after received your deposit.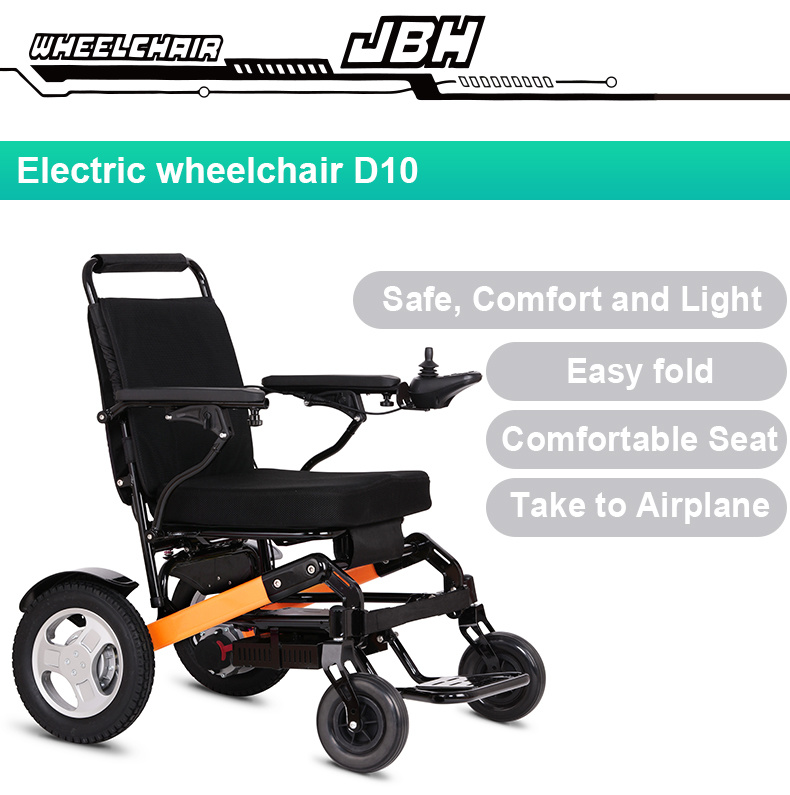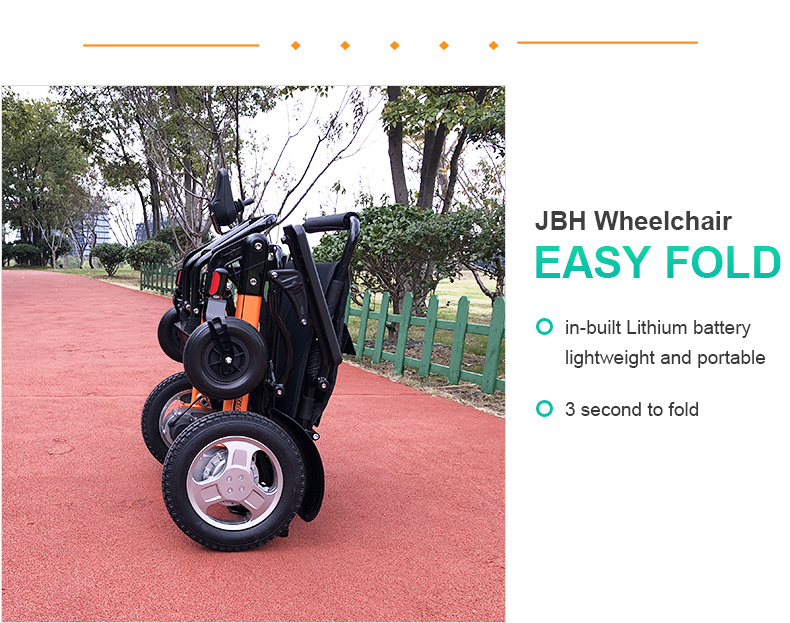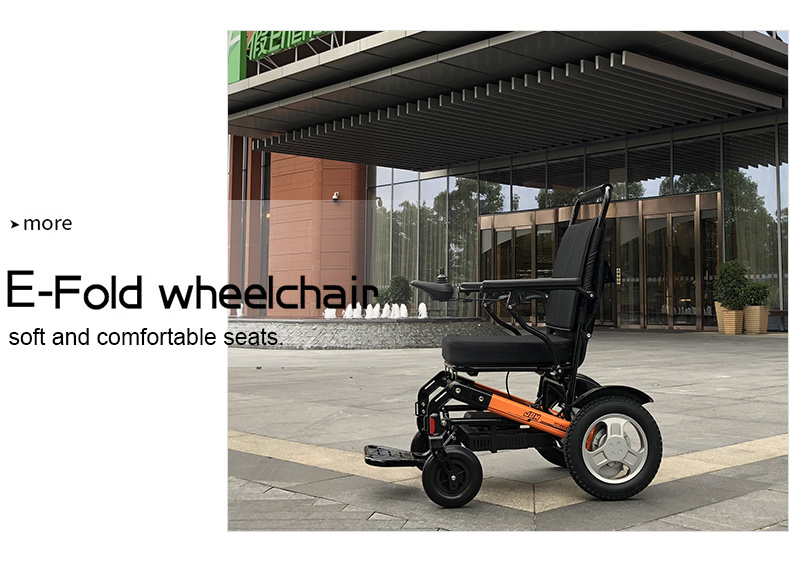 | | | | |
| --- | --- | --- | --- |
| Overall Size | 870mm×610mm×920mm | Folded Size | 610mm×260mm×770mm |
| Net Weight | 21kg | Gross Weight | 26kg |
| Color | Silver, Blue, Black, Red, Yellow, Pink | Weight Capacity | 120kg |
| Max Speed | 6km/h | Driving Distance | 15-20km |
| Seat Width | 470 mm | Seat Depth | 400 mm |
| Seat Height | 460 mm | Climbing | 12 ° |
| Motor | 180W×2 DC 24V brushless motor | Battery | 10Ah DC 24V Lithium Battery |
| Tire | PU solid tire | Frame | Aerospace aluminum alloy |
| Brake System | Intelligent electromagnetic brake | Charging Time | 6-8 hours |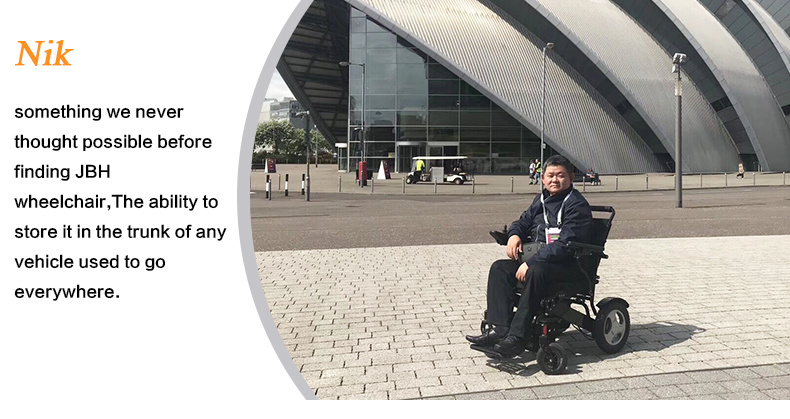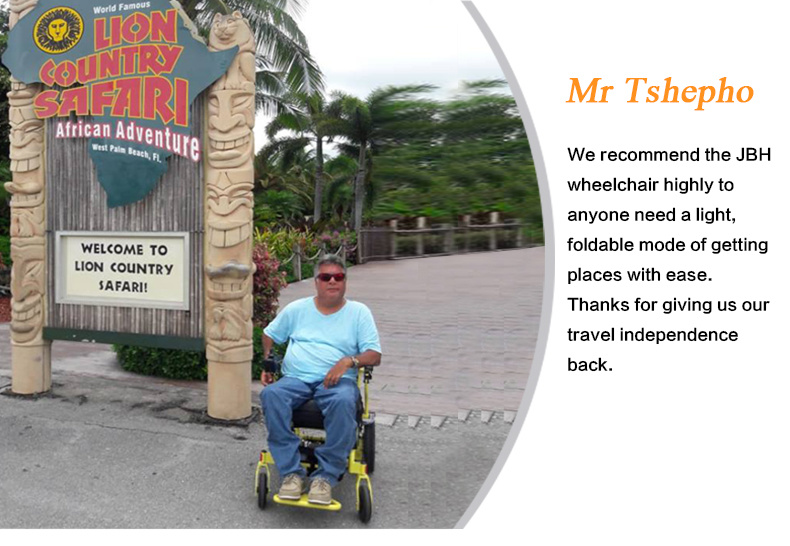 FQA
Q1.Why you choose Jin Bai He Company?
A1.We are profession wheelchair factory so we can ensure products quality and The pre-sale, after sale service.
A2.We accept your wheelchair design so we accept custom-made and customer Logo Print
A3.We are factory so our price is most competitive 
 
Q2.What is your warranty of products?
Wheelchair Frame is 4 years,Battery is 1 years
 
Q3.How about your payment and shippment
Payment terms:30% in advance payment;70% before shippment
Shippment:FOB,CIF,CFR is available
Delivery Time:within 25 days after received your deposit.

Glutamic acid, is an acidic amino acid. Molecules containing two carboxyl groups, chemical name for α-amino-pentanedioic acid. Glutamic acid was discovered by lisuoxun in 1856, is a colorless Crystal, fresh, slightly soluble in water, soluble in hydrochloric acid, isoelectric point 3.22. Abound in cereal protein, animal content in the brain and more. Glutamic acid in vivo protein metabolism plays an important role in the process, participating in many important chemical reactions in animals, plants and micro-organisms. Msg containing small amounts of glutamic acid.




Function:

1.Active component for lasting moisturizing and resistance to dry conditions of human skin.

2.Increasing the elasticity of human skin and keeping it tight and smooth.

3.Inhibiting the formation of melanin remarkably.

4.Keeping pH balance of human skin.

5.Forming a slow-release delivery system and therefore improving the absorption capacity of nutrients in cosmetics.

6.As a humectant, moisturizer to improve skin care quality, as a whitening agent, has anti wrinkle property which gives long lasting effect.

Cosmetic Grade Poly-γ-glutamic Acid

Cosmetic Grade Poly-Y-Glutamic Acid,Cosmetic Grade Poly Glutamic Acid,Cosmetic Grade Acid,Polyglutamic Acid Skin Care

Qufu Hi-Tech Trading Co., Ltd. , http://www.chinahyaluronic-acid.com